FLIGHTS IN/OUT
Black Gold Lodge is accessible by float plane from Port Hardy Airport, at the northern end of Vancouver Island. Half-hour flights aboard Pacific Coastal Airlines leave from Port Hardy starting at around 1:00 p.m. Just don't expect the usual airport formalities; we're all friends up here.
Connecting flights are available from Vancouver International Airport, and for those who prefer the scenic 5-hour drive, airport parking is convenient and inexpensive. Please arrive early.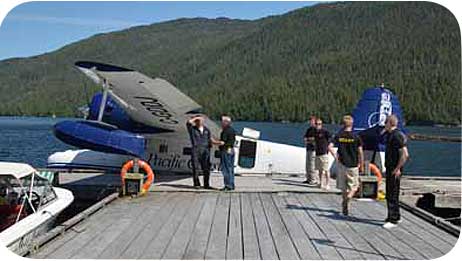 We work closely with our main carrier, Pacific Coastal Airlines, serving our guests from Vancouver through Port Hardy and on to the Lodge.


Some of our guests prefer to fly Northwest Seaplanes direct from Renton Washington.
For more information about getting here, visit our Trip Planner.